Make A Difference

It is generous donors like you who help the Wenger Foundation continue to implement its mission of community support and involvement year after year. Consider contributing to our vision so that together, we can extend a greater impact on our community.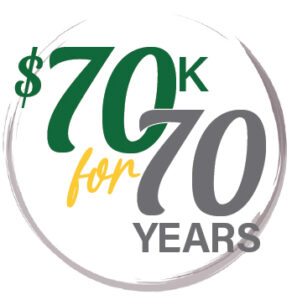 We asked you to participate in our matching grant $70k for 70 years in honor of Carl and Margaret Wenger's 70th Wedding Anniversary. You answered and we have raised $75,565 which has doubled to $145,565.
ONE-TIME GIFT

A gift of any amount can make an intentional impact on what we cherish together.

MONTHLY GIVING

Monthly giving extends the opportunity for wider sustainability of our work together.
Fund the Van
Carl Wenger was an avid supporter and friend of the Pennsylvania FFA Association. His genuine love for the FFA started when he was a high school student, and carried throughout his lifetime. Carl especially had an interest in supporting the Pennsylvania FFA State officer teams. Serving as the State Reporter in 1951-1952, he understood first-hand the influence each of you have had on America's youth. For over 30 years (and counting) Carl and Margaret would offer their support to state officer teams.
Carl and his wife, Margaret, have invested in the lives of FFA members and made many donations to the organization. In the summer of 2014, they graciously purchased & donated the Pennsylvania FFA Van. The van has played an influential role in the transportation of state officer teams. It has traveled a total of 140,00 miles — including 8 trips to the National FFA convention, 6 trips to the Big E, and countless adventures in between. The van has been a valuable asset to the Pennsylvania FFA Association, however; it is time for the organization to upgrade the vehicle.
The Wenger Foundation is looking to continue Carl's legacy by offering a $25,000 matching grant for the purchase of a new van for the PA FFA Association. We hope you will join us in funding the van! This match remains open through March 31, 2022.
Questions? Contact Glenn Wenger, PA FFA Vice President 1981-1982 (717)554-3920 or gwenger@wengers.com.